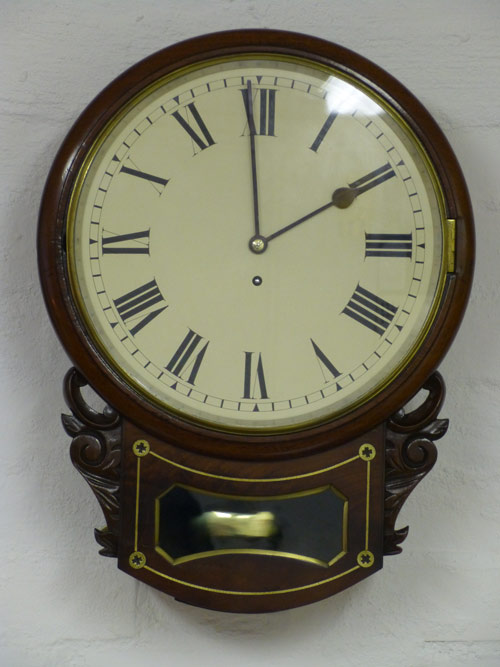 Stafford Arms Hotel.
A mahogany and brass inlaid English drop dial wall clock with fusee
movement and visible pendulum. Circa 1870.
Mahogany case with slender one piece convex bezel and carved decoration to the sides of the trunk. The drop case is veneered with fine mahogany and inlaid with brass stringing and rosettes. The glazed pendulum aperture is bordered with a brass moulding. It has a curved and cock-bead edged locking door to the base allowing access to the pendulum for regulation.
12" painted dial with black Roman numerals and fine minute track. Its blued steel spade and pointer hands are protected by a glazed locking cast brass bezel.
Intriguingly the rear of the re-painted dial has various instructions written for the original dial painter. Around the edge, in place of the numerals are STAFFORDARMS (Stafford Arms) and to the centre HOTEL but the next line is ineligible. I have photographed it so hopefully someone may be able to decipher it. This was a common practice on clock dials that were placed in business premises and where the name was fortunate enough to have twelve characters. This may have been done when the clock was ordered or soon after it was purchased. The rear of the dial also has the name Russell, T&V and a repair mark WH 9/7/13.
The 8 day timepiece movement has recoil anchor escapement, gut fusee and plates with a shaped top edge.
Dimensions:-
Length – 19½" (50cm) Width - 14½" (37cm) Depth – 5¾" (15cm)
£1850