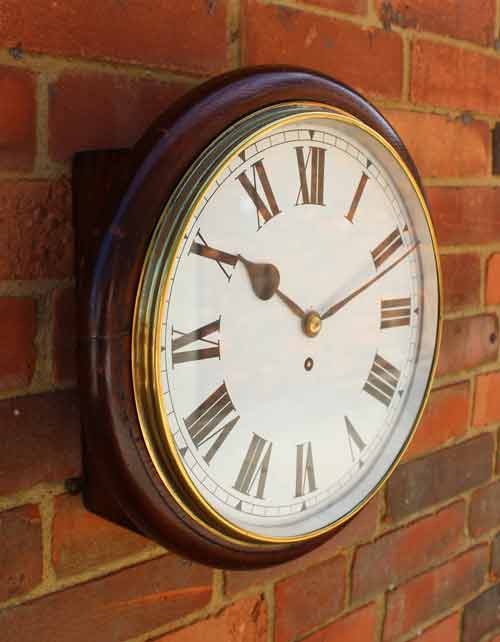 St Giles Hospital, Camberwell, London.
An English dial wall clock with chain fusee movement in an oak case. Circa 1930.
The dark oak case with curved base and cock-bead edged locking door for access to the pendulum for regulation. One piece convex oak bezel and glazed spun brass bezel with silvered sight ring covering the dial. To the right hand side of the case is a hinged door for access the top of the pendulum. The back box is secured with four pegs and its back board is signed 'St Giles Hosptl Cwell'.
12" dial with original painted surface, black Roman numerals and a fine minute track with triangular five minute marks. Blued steel spade and pointer hands.
The eight day timepiece movement has recoil anchor escapement, chain fusee and plain pillars secured to the backplate with screws.
The plates are stamped with the production number 8923 and the backplate and pendulum with the batch number 16. Interestingly the backplate was struck with the number 15 which has been crossed out.
Dimensions:-
Overall Diameter – 14¾" (37cm) Depth – 6" (15cm)
£950
Saint Giles Hospital, Camberwell, London. 1927 - 1993.
Camberwell Workhouse Infirmary was opened in 1873 on a site adjoining the Havil Street Workhouses. Extensive new hospital buildings were erected between 1899 and 1903 on part of the site adjoining Brunswick Square (now St Giles' Road) and Brunswick Road. The infirmary was renamed Saint Giles' Hospital in 1927. Saint Giles' Hospital became part of the National Health Service in 1948.
Saint Giles' Hospital became part of Optimum Health Services in 1993, an NHS Trust responsible for community health services in Camberwell. Most of the hospital buildings were no longer required and have been demolished. Saint Giles' Tower, a circular ward block opened in 1889, has now been converted into flats.